November 2021
As part of the IAPETUS2 Doctoral Training Programme (DTP), there are a number of PhD projects available to work with members of the ESHH team, based either in Stirling or at one of our UK-partner Universities in the IAPETUS DTP. This is a competitive PhD scheme where projects are put forward for students to apply for. The supervisory team then will nominate one student per project to go forward to the next round of selection, where the IAPETUS recruitment team will shortlist the best students/projects to go forward for interview. Applications are open to UK (and EU nationals in the UK settlement scheme) as well as non-UK applicants from the rest of the world (although there is a limit on the number of studentships that can be offered to non-UK applicants). You can see the financial support available, eligibility and requirements and training details here. Please see the Opportunities page for more details on the projects available and get in touch in if you would be interested in studying with us.
October 2021
It's been nearly a year without any updates, but we hope to have more regular news items now that the research group is growing. And here's a quick update on some more funding news: Prof Richard Quilliam has recently been awarded a BBSRC grant to fund a six month project "Using genomic sequencing to identify and characterise genospecies within the Rhizobium leguminosarum complex linked to increased performance and yield of a legume crop". This project aims to identify elite Rlc genospecies by characterising the nif, nod and fix gene families, and use this data for the discovery of novel genetic markers linked to crop performance and ultimately yield. We are happy to say that our PhD student Francesc Ferrando-Molina is staying on as the post-doc working on this project. Fransesc is all set to submit his thesis in December and will work on this project full time.
November 2020
Some very big and exciting news: Prof Richard Quilliam has been awarded funding for the SPACES project to work in Tanzania and Malawi on the impacts of plastic pollution on human health and the spread of diseases. You can read all about it here: https://www.stir.ac.uk/news/2020/november-2020/385m-stirling-led-study-to-tackle-impact-of-plastic-pollution-in-africa/
Look out for the adverts for post doc positions and research/technician positions that will be coming soon in 2021. Exciting times ahead…?
October 2020
Prof Richard Quilliam has just been awarded £30k by the Scottish Funding Council under the GCRF for his project, "Sustainable waste management and Covid-19: an opportunity to build resilience into the livelihoods of informal waste pickers (IWPs)". IWPs are subject to social stigma, face poor working conditions, and since the Covid-19 lockdown in South Africa, they have been prevented from resuming their activities. This has jeopardised the sustainability of hundreds of thousands of livelihoods and impacted municipal solid waste collection (with an associated financial burden for local municipalities). Compounding this is the possible infectious nature of much of the solid waste, with the pandemic leading to significant volumes of waste that require safe, sanitary and sustainable management. However, for many in the global south, PPE is scarce and expensive, and at a time when IWPs are being prevented from working, there is worrying evidence of recycling potentially infectious waste – as shown in the above image where women from Mozambique appear to be washing masks for re-sale.
In collaboration with Dr Marc Kalina at KwaZulu Natal University in South Africa, this project will quantify the impacts of mobility restrictions on IWP lives and livelihoods, and the associated financial impact on municipal waste management systems, and co-create best practice guidelines for IWPs to work safely during this pandemic (including handling potentially infectious waste) and during any future events.
July 2020
A very big congratulations to Javier Carrillo Reche who has just had his viva and successfully defended his PhD thesis. Javier's PhD project was about the application of 'on-farm' seed priming for sustainably increasing crop yields for resource-poor farmers working in rain-fed agricultural systems. Watch this space for the set of publications that will come from Javier's thesis. Very well done Javier!
June 2020
ESHH research group meetings go online: great to catch-up with the group and to hear about how wonderfully everyone has adapted to 'working at home'

May 2020
The final paper from Isobel Swinscoe's PhD thesis has been published in Food Microbiology. This is the third paper she has published from her thesis – a fantastic effort Izzi.
A new paper examining the risks of COVID-19 transmission via faeces has been published in Environment International, authored by Professor Richard Quilliam, Professor Manfred Weidmann, Dr Vanessa Moresco, Heather Purshouse, Dr Zoe O'Hara, and Dr David Oliver. Read the paper here.
January 2020
Congratulations to Craig McDougall, who has published his first paper: Valuing inland blue space: A contingent valuation study of two large freshwater lakes. This study used the contingent valuation method to determine public preference for the protection of lakeside quality at Loch Lomond and Loch Leven. Well done Craig! Read the paper here.
Professor Richard Quilliam has also published a new paper, which compares the performance of biofertiliser made from black soldier fly frass with other methods of fertilising crops using field trials in Ghana. The paper is called Integrating insect frass biofertilisers into sustainable peri-urban agro-food systems and can be found here.
December 2019
ESHH were delighted to be joined by Dr CS Sharada Prasad, from Azim Premji University, who visited the University of Stirling to deliver a seminar on India's Sanitation System – A new mechanism to shift risks socially, spatially and temporally. Sharada's work uses visual narrative and ethnography to trace the movement of human waste from pit to dump, and to describe the challenges of sanitation infrastructure and work in India and its implications on a particular social class. His broader mission is to communicate the lived experiences of sanitation workers through photography, and his collection of photo essays can be viewed here.
November 2019
Dr David Oliver has published a new, open access paper from the UK-China Critical Zone Science project: How does smallholder farming practice and environmental awareness vary across village communities in the karst terrain of southwest China? This paper presents results from a catchment-wide survey investigating how, where and why environmental awareness, catchment understanding, and farming practices differ amongst farmers and community leaders in a typical karst catchment. The study is part of a wider UK-China research initiative to understand fragile karst ecosystems and to identify the typical methods for exchanging environmental management knowledge with farmer communities. Read the paper here.
October 2019
We are pleased to welcome the newest members of our team: Amy McCarron and Sydney Byrns, who are joining us as PhD students, and Heather Anderson who is joining as an MRes student (progressing to PhD in 2020). Learn more about our new colleagues and their projects on our team page!
In other news, Sarah Buckerfield has published another paper from her PhD research: Rainfall-driven E. coli transfer to the stream-conduit network observed through increasing spatial scales in mixed land-use paddy farming karst terrain. This paper presents results from Sarah's fieldwork in South West China, and explores how rainfall, land-use, and catchment hydrology control the transfer of E. coli in karst landscapes. Read Sarah's paper here.
In addition, a project website has been launched for Microbial hitch-hikers of marine plastics: the survival, persistence and ecology of microbial communities in the 'Plastisphere', along with a twitter account, which will be used to share updates and outputs.
September 2019
Congratulations to Isobel Swinscoe, who successfully defended her PhD thesis on microbial safety of seaweeds and using insects as feed! Well done Izzi!
We are also very pleased to welcome Dr Zoe O'Hara to the lab, who is joining us as a postdoctoral researcher to work on the project: Microbial hitch-hikers of marine plastics: the survival, persistence and ecology of microbial communities in the 'Plastisphere'. Read more about this exciting project here.
In other news, Natalie Boyd Williams has finished her first fieldwork trip to Nepal, which involved interviews exploring socio-cultural aspects of biogas-linked toilets. Find out more about Natalie's trip on Twitter and her blog post, or read about other recent ESHH fieldwork campaigns in China and Malawi.
July 2019
We are delighted to welcome Jennifer Hancock, an MSc student at London School of Hygiene and Tropical Medicine (LSHTM), who is joining us for the summer to work on her thesis project in collaboration with the University of Stirling's Plastic Vectors Project, LSHTM, and University College London Hospital. Jennifer's work aims to determine whether micro-plastics can act as vectors for pathogenic bacteria. She will be investigating: whether nontoxigenic E. coli O157 is able colonise micro-plastics in urban, agricultural, and clinical water systems; whether micro-plastics are able to act as sentinels for bacterial pathogens; and whether the presence of micro-plastics enhances bacterial growth.
June 2019
An exciting experiment has been set up by Jonathan Fletcher, on Airthrey Loch at the University of Stirling campus, using 'floating treatment wetlands' to explore their role in improving water quality. Read more about Jonathan's experiment, and see photos of the floating treatment wetlands, in this blog post: Floating treatment wetlands as multi-functional ecosystems – from anecdote to evidence.
May 2019
Francesc Ferrando Molina has won the James Hutton Institute Prize for a presentation of his PhD research: Isolation and characterisation of soil bacteria from a semi-arid region for their novel bio-fertilisers, at the James Hutton annual Postgraduate Student Event. Congratulations, Francesc! Read more about the event here, and find out more about Francesc's work here.
April 2019
Congratulations to Richard Quilliam, who was recently promoted to Professor of Environment and Health.
We are also delighted to welcome Dr Vanessa Moresco to the lab, who is joining us as a postdoctoral researcher to work on the project: Microbial hitch-hikers of marine plastics: the survival, persistence and ecology of microbial communities in the 'Plastisphere'. Read more about this exciting project here.
Heather Purshouse has received a Slawson Award of £2,000 from the Royal Geographical Society, to conduct a study: The changing landscape of menstrual waste in Malawi. This study will quantify physical and social aspects of the menstrual waste disposal challenge in Blantyre, Malawi, and develop participant-led solutions.
March 2019
A recent study published in the Marine Pollution Bulletin by Alyssa Rodrigues, Dr David Oliver, Amy McCarron and Dr Richard Quilliam has demonstrated that plastic nurdles on Scottish beaches can harbour bacteria such as E.coli and Vibrio spp., meaning that the 'plastisphere' in the ocean has the potential to act as a vector for diseases. Read their paper here, or read coverage of the story in The Guardian, The Scotsman, IFL Science, National Geographic Italia (in Italian), and Le Parisien (in French).
February 2019
Mairi Gougeon MSP, Minister for Rural Affairs and the Natural Environment, visited the University of Stirling and met with Dr Richard Quilliam to find out more about the £1.85 million research project into how marine plastic can act as a vector for pathogenic organisms. Mairi said: "We are all now well aware that plastic pollution threatens our marine environment, caused by our dependence on plastic and throwaway culture. Little is known of the long-term harm caused by marine plastics, whether to marine species or humans. As such, research like this by the University of Stirling is key to improving our understanding, and enabling the protection of our seas on which we rely for climate regulation, food and so much more." Read more about the visit here.
January 2019
Dr David Oliver is part of a team of 12 UK partners and 15 Chinese institutions who have received £1.1 million to undertake a new project: Maximising impact by decision support tools for sustainable soil and water through UK-China critical zone science (MIDST-CZ). MIDST-CZ, led by the University of Aberdeen, will build on the findings from the original five UK-China CZO projects funded under the joint programme between NERC and the National Natural Science Foundation of China (NSFC). More details available here.
December 2018
Dr Richard Quilliam has been awarded £1.85 million from NERC to conduct a research project investigating how marine plastics transport bacteria and viruses – and the impact that these may have on human health. The research will be carried out in collaboration with academics from the Universities of Bangor and Warwick, and is entitled Microbial hitch-hikers of marine plastics: the survival, persistence and ecology of microbial communities in the 'Plastisphere'. Read more about this exciting project here, or see coverage of the story in The National.
In other news, Sarah Buckerfield received one of the SAGES prizes for the best post-graduate publications for 2017/18 for her publication How can improve understanding of faecal indicator dynamics in karst systems under changing climatic, population, and land use stressors. This paper identifies a series of research priorities needed to progress the knowledge base underpinning management of faecal contamination in karst landscapes, which are highly prone to water contamination problems. The review focuses on paddy farming regions, home to a large proportion of the rural population of the Asia-Pacific, and a land-use setting that has received little to no research attention in this field. Read Sarah's paper here.
November 2018
Kathleen Stosch and Dr David Oliver both presented research findings at the International Water Association's 3rd Regional Diffuse Pollution Conference in Chiang Mai, Thailand. Kathleen's talk focused on her recent publication in Science of the Total Environment where she quantified differences in stakeholder preferences and understanding within a land and water management trade-off.
Kathleen is grateful for the opportunity to present her results and obtain feedback from an international audience, and thanks British Hydrological Society for awarding her with a travel grant to help towards being able to attend the conference. The conference has been of great value to her project at a crucial stage of her PhD, presenting her with a wealth of networking opportunities and an unforgettable experience.
October 2018
We are pleased to welcome the newest members of our team: Natalie Boyd Williams and Craig McDougall who are joining us as PhD students. Learn more about our new colleagues and their projects on our team page!
In other news, Kathleen Stosch has published her second paper, Quantifying stakeholder understanding of an ecosystem service trade-off, in Science of the Total Environment and can be accessed here.
September 2018
Dr David Oliver and Claire Paton both presented at the Scottish Water Catchment Science conference, showcasing catchment-focused research alongside several industry partners. Sharing the knowledge and insights gained from research projects stimulated a lot of interesting discussion and gave a better understanding of the potential benefits of catchment research and management for improving drinking water quality.
July 2018
We would like to welcome Emmanuel Afolabi to the ESHH group! Emmanuel will be quantifying the risk of wildlife contributions to diffuse microbial pollution in agricultural catchments – a really important question for differentiating diffuse pollution risk coming from wildlife or livestock .
Sarah Buckerfield has published her first paper, How can we improve understanding of faecal indicator dynamics in karst systems under changing climatic, population, and land use stressors? – Research opportunities in SW China. This paper can be found here.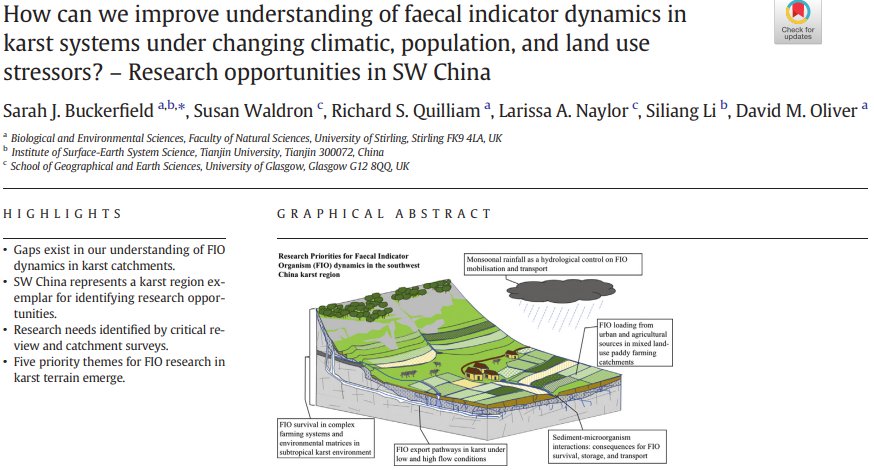 June 2018
Isobel Swinscoe has published her first paper, The seaweed fly (Coelopidae) can facilitate environmental survival and transmission of E. coli O157 at sandy beaches. This paper can be found here.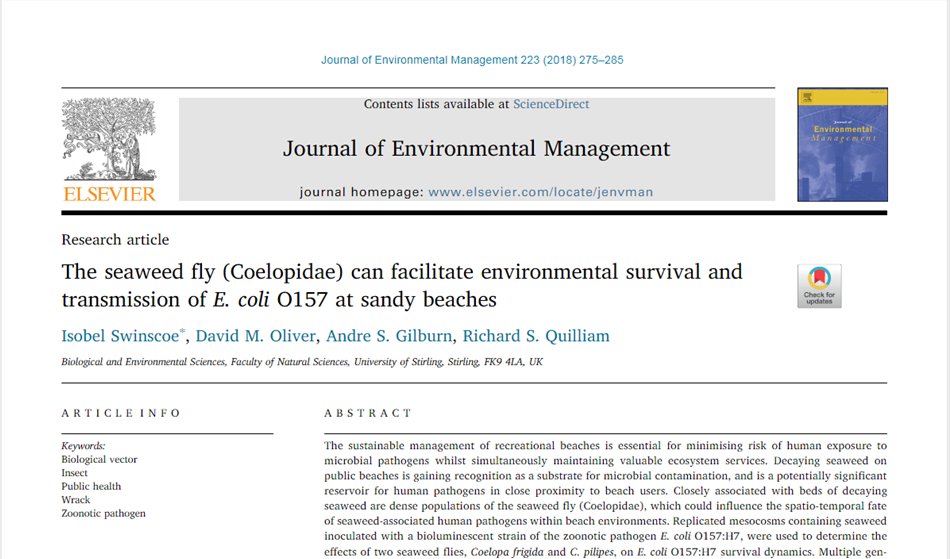 April 2018
Claire Paton has received funding from Santander to cover fieldwork travel expenses for some upcoming work in Orkney. This campaign will allow Claire to categorise the sources and transfer pathways of Cryptosporidium in two drinking water catchments on the Orkney mainland.
March 2018
Sarah Buckerfield has received funding from SAGES (Scottish Alliance for Geoscience, Environment and Society) through the SAGES Small Grants Scheme to present results from her first field season in China at the International Association of Hydrogeologists Congress in Daejeon, Korea, in September. The aim of this field campaign was to investigate how E. coli emergence and discharge in surface and ground water sampling sites varied through a series of rainfall events during the wet season, with increasing spatial scale of downstream sampling location.
February 2018
Heather Purshouse has been awarded a grant from the Parkes Foundation to explore whether composting toilets meet the needs of menstruating women and girls in Malawi. Composting toilets are designed to safely collect and convert faeces and urine into compost, and are widely promoted across Africa as a sustainable strategy to improve sanitation and produce low-cost fertiliser. However, it is not clear whether these facilities are able to satisfactorily meet the physical, mental and cultural needs of menstruating women and girls. Certain requirements of composting toilets, e.g. preventing water or rubbish from entering the toilet vault, conflict with need to wash bodies and hands in privacy, clean blood stains on the toilet, and dispose of used menstrual rags with discretion. This project will use in-depth qualitative interviews with women and girls who are long-term users of composting toilets to discuss their behaviours, experiences, beliefs and opinions. These will be compared and contrasted with traditional toilet (pit latrine) users, and developed into suggestions for improving the suitability and comfort of composting toilets for menstruating women and girls.
February 2018
Excellent progress is being made on the ViPER II project and the integration of the ViPER platform with SCIMAP to develop SCIMAP-FIO, a FIO risk mapping decision support tool (coupling FIO source risks with hydrological connectivity). On 7th February, members of ESHH (Dr Jared Parnell, Dr David Oliver, and Dr Richard Quilliam), along with Dr Phil Batrie and Dr Sim Reaney, ran a workshop at Durham University to update on progress and to demonstrate developments thus far to a range of end-users, including SEPA, EA, Scottish Water, Natural England, DWQR and CREW.
January 2018
Heather Purshouse and Dr. Richard Quilliam visited Malawi to investigate the potential use of innovative sanitation systems and lay the groundwork for future fieldwork.
December 2017
ESHH PhD students presented posters and oral presentations at the University of Stirling Biological and Environmental science Winter Symposium. Research themes ranged from catchment science to novel techniques for optimizing grain yield. Claire Paton received a prize for best presentation and Heather Purshouse and Francesc Ferrando Molina also were awarded best poster presentations.
Jonathan Fletcher engaged with the water industry and regulatory community at the Water Scotland conference by presenting on how phytoremediation can be a useful diffuse pollution mitigation tool.
November 2017
Javier Carrillo-Reche attended the Sustainable Intensification conference at Rothamsted Research, Harpenden. Learning the latest advances in sustainable agriculture and presenting a poster showing the enormous potential of 'on-farm' seed priming for closing yield gaps in marginal and degraded agricultural areas.
October 2017
ESHH welcomes Heather Purshouse and Francesc Ferrando Molina to the research group. Heather will be investigating the role of insect larvae for the sustainable management of faecal wastes in sub-Saharan Africa and Francesc will be developing novel seed treatments for grain legumes.
July 2017
Jonathan Fletcher commences a study of water bodies around central Scotland to determine the phytoremediation potential of native aquatic plant communities.
Typha latifolia (Reedmace) and Lemna minor (Duckweed) community in eutrophic water.
Right: Sparganium erectum (Branched Bur-Reed) and Potamogeton perfoliatus community (Clasping-leaved Pondweed) in copper and manganese enriched water
June 2017
Dr Jared Parnell joins the ESHH Research Group as a Post-doc and web-developer on the NERC-funded ViPER II project.
May 2017
Exciting PhD Studentship available on Plant-microbe Interactions under the supervision Dr Richard Quilliam (University of Stirling), Prof Adrian Newton and Dr Pete Iannetta (JHI, Dundee): 'Developing novel seed treatments for grain legumes: optimising sustainable outcomes in agricultural systems'
April 2017
Sarah Buckerfield has left for China to undertake the first fieldwork campaign of her PhD project. Sarah will be in China from April through to the end of June investigating E. coli fate and transfer linked to different hydrological and land-use drivers in the Houzhai catchment. She'll be based at the Puding Karst Ecosystem Research Station in Guizhou Province, which is the centre of the South China Karst terrain.
ESHH members will be attending the Scottish Ecology, Environment and Conservation Conference, to be held at the University of Aberdeen during April 3/4th 2017.
February 2017
12 month position available in ESHH: Web Application Developer. We are looking for a developer to integrate two existing web-based packages (SCIMAP and ViPER) to produce an innovative decision support tool (DST) for environmental management – Deadline 9th March, full details HERE.